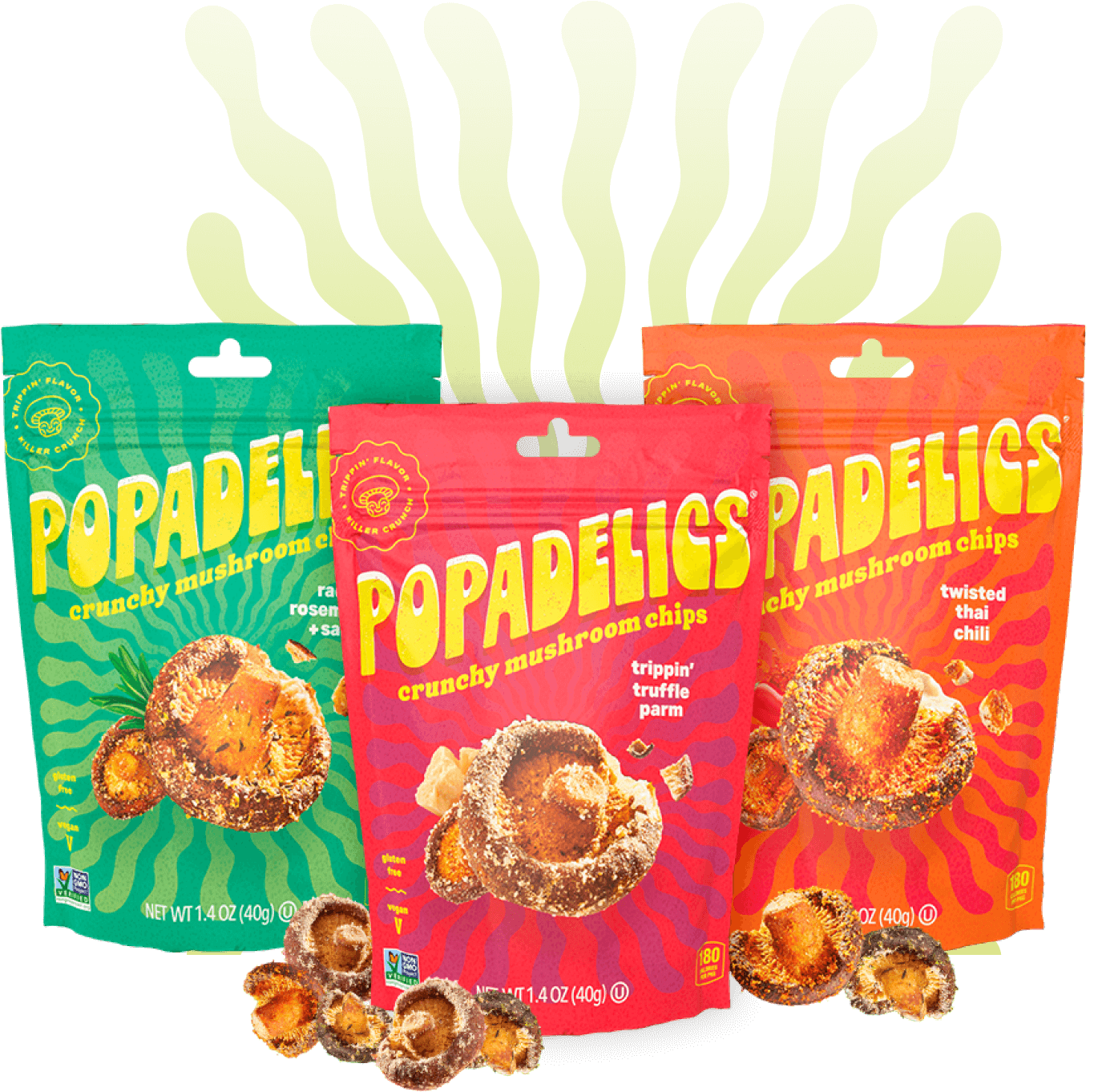 Shiitake mushrooms reimagined for the modern superfood snacker.
3g of protein per 1.4 oz bag
6g of fiber per 1.4 oz bag
*Although our snacks are out of this world, they do not contain any psilocybin.
how we put the pop in Popadelics.
Popadelics get their addicting, crunchy texture from a process called vacuum frying. Vacuum frying uses a combination of hot oil and pressure so, compared to conventional frying, our shiitake mushroom chips can cook at much lower temperatures.
Why is this revolutionary? Because this helps food retain more of their color, nutrients, textures and flavors all while absorbing less oil - so you can feel good about what you're eating.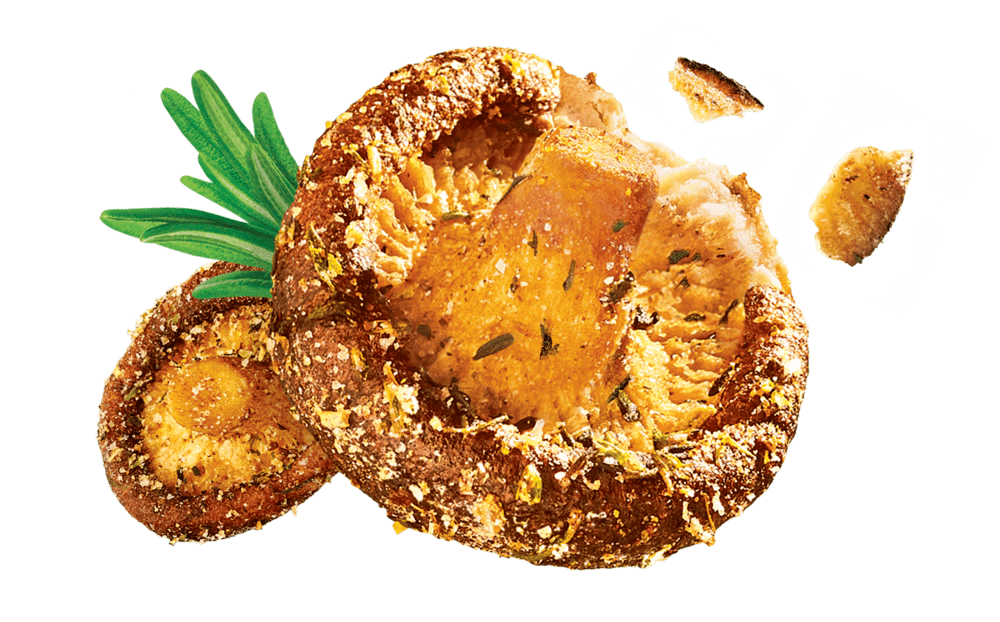 Low oil content

Retains flavor and nutrients

Flavor and crunch without the guilt

Vegan

Minimal ingredients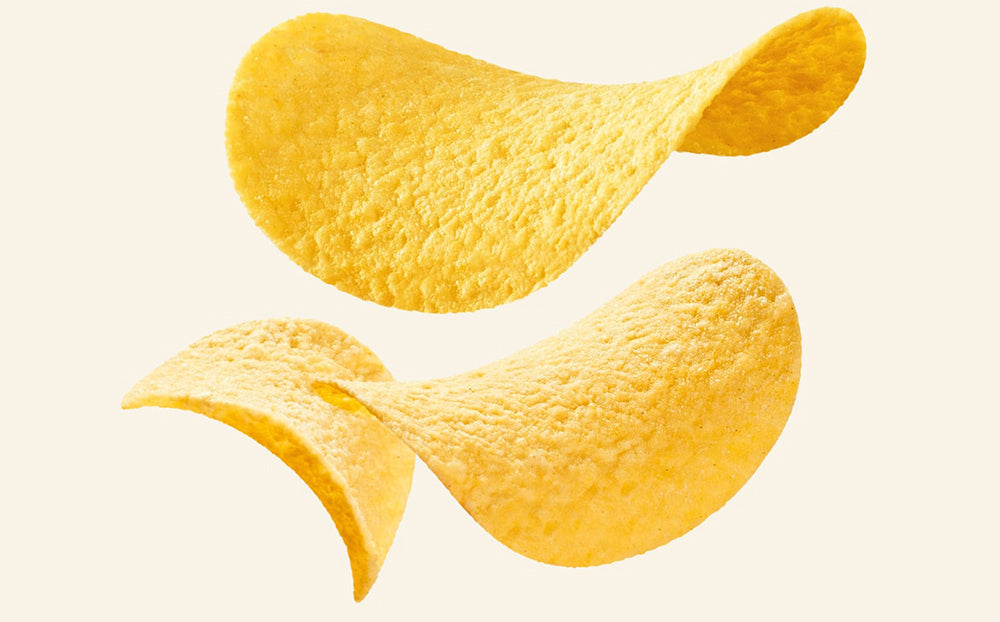 High oil content
Kills nutrients
Formation of carcinogenic substance
Non-Vegan
50 ingredients you can't pronounce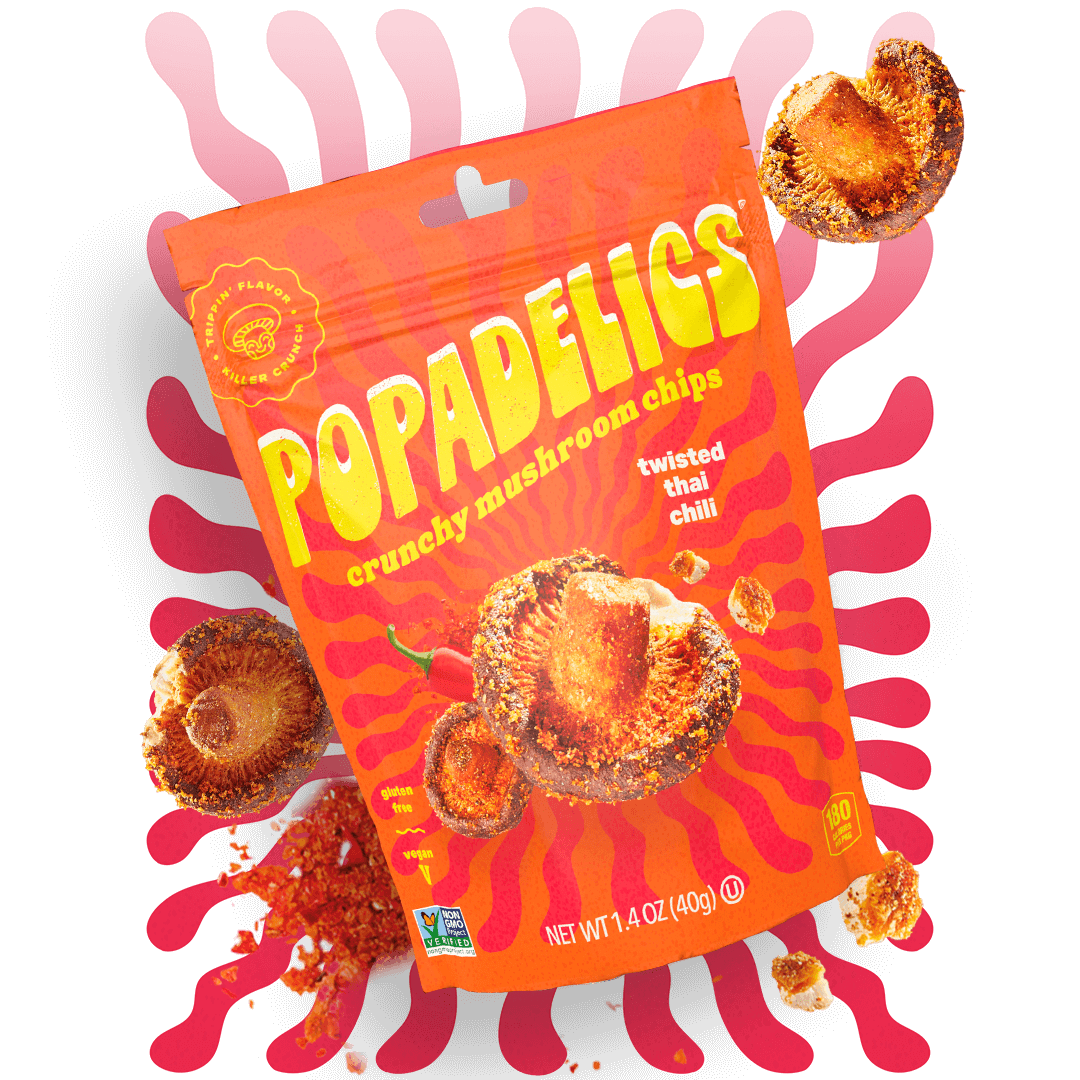 twisted thai chili
Keeps hot sauce in their bag 24/7. Packing just the right amount of heat.
Ingredients
DRIED SHIITAKE MUSHROOMS, SUNFLOWER OIL, ORGANIC SEASONING BLEND (ORGANIC TAPIOCA MALTODEXTRIN, SALT, ORGANIC TOMATO POWDER, ORGANIC GARLIC POWDER, ORGANIC HABANERO PEPPER POWDER, ORGANIC PAPRIKA EXTRACT, NATURAL FLAVORING, NATURAL SMOKE FLAVOR), MALTOSE SYRUP.
variety pack
Can't decide? Try all three of our flavors with a variety pack, which includes 2 packs of each flavor in a 6 pack.
for 6 bags (1.4 oz each)
$30.00
$27.00
USE CODE: WELCOME10*
at checkout
*offer valid once per customer - not valid on wholesale, subscription, or Buy with Prime orders
Testimonials
Vanessa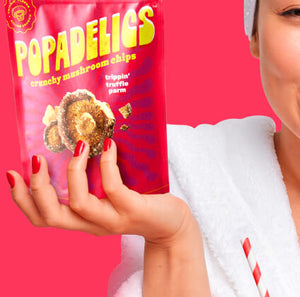 Vanessa
Holy shiitake. These are genuinely one of the most delicious snacks I've had in quite some time, in any category. And I eat a LOT of [better-for-you] BFY snacks.
Raqueta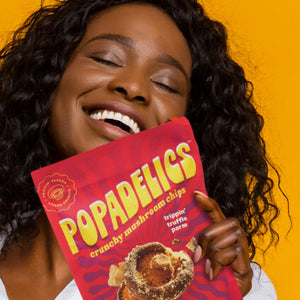 Raqueta
This flavor [Trippin' Truffle Parm] right here changed my life. These are so good, I bet you can't eat just one!
Georgia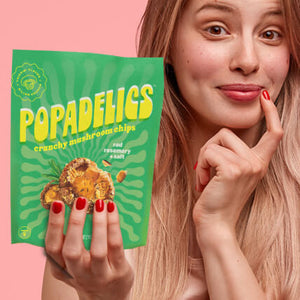 Georgia
I tried the Rad Rosemary & Salt and Twisted Thai Chili this past weekend and they were the absolute best thing I've eaten in a while!
Ginny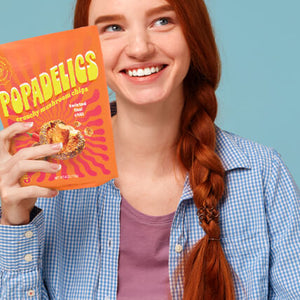 Ginny
I wasn't quite sure what to expect, but I was very pleasantly surprised. I love the crunch and the fact that [Popadelics] doesn't spare the flavor, which is wonderfully bold. The bag didn't last long.
Josh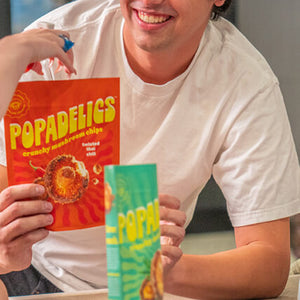 Josh
My first shipment came in today, and I am so far beyond pleasantly surprised. These snacks are amazing. I have been telling everyone I have talked to today about them, and how great they are. I am not a chip/salty snack eater normally, [but Popadelics have changed] that.
Gomian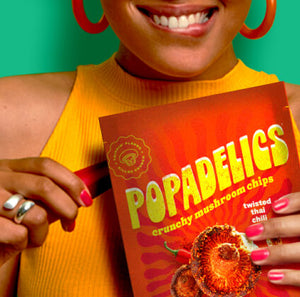 Gomian
When I heard 'mushroom snacks,' I was pretty skeptical. But these are really tasty! Just like a regular chip, but with even more flavor!
Corbin
Corbin
At first, I didn't know what to think, and I didn't know how it would taste. But the kick of flavor sets this apart from any other snack out there! It's so innovative, so creative, and very tasty. I look at mushrooms so differently now!
Eric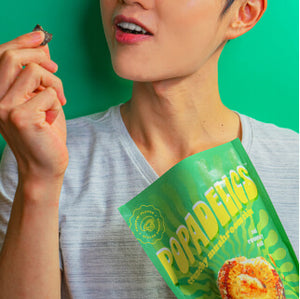 Eric
If you want something crunchy and better for you, Popadelics is a great snack to munch on!
Kevin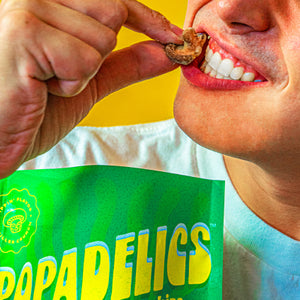 Kevin
I'm telling you, you've got to try these mushrooms. The flavors are amazing. Absolutely blew my mind. Whenever I need a snack, these are my go-to!
Rebecca
Rebecca
I never thought a [better-for-you] snack could be so delicious and full of flavor. I can't wait to share these with everyone I know. They really hit the spot!
Demi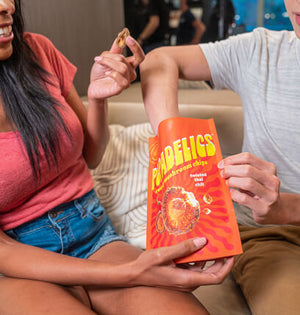 Demi
I had never heard of a mushroom based snack before, so I was definitely curious how they would taste. I was blown away. I love spicy food so the Twisted Thai Chili was a much welcomed surprise blast of flavor and crunch in one bite. I am also partial to the Rad Rosemary and Salt for a classic crunch.
Pritika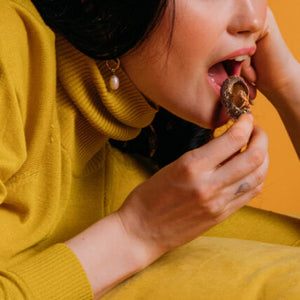 Pritika
Wow, I had heard these snacks were pretty great, but they just blew my mind! The flavors are so unique and well balanced. I couldn't stop myself from eating just one. I would be surprised if anyone can!
David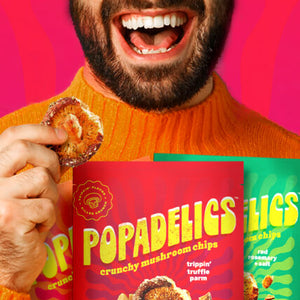 David
Super crunchy, perfectly savory. I'm not a huge truffle fan but even the Trippin' Truffle Parm is really well-balanced.
Purchases of Popadelics™ help support the Fun-Gal Snacks Foundation, a charitable organization that supports various causes centered around health and wellness, including the Johns Hopkins Center for Psychedelic & Consciousness Research and their exploration of innovative treatments for improved mental health.
The Fun-Gal Snacks Foundation Inc. is a 501(c)(3) tax-exempt organization under the Internal Revenue Code (IRC).
Learn More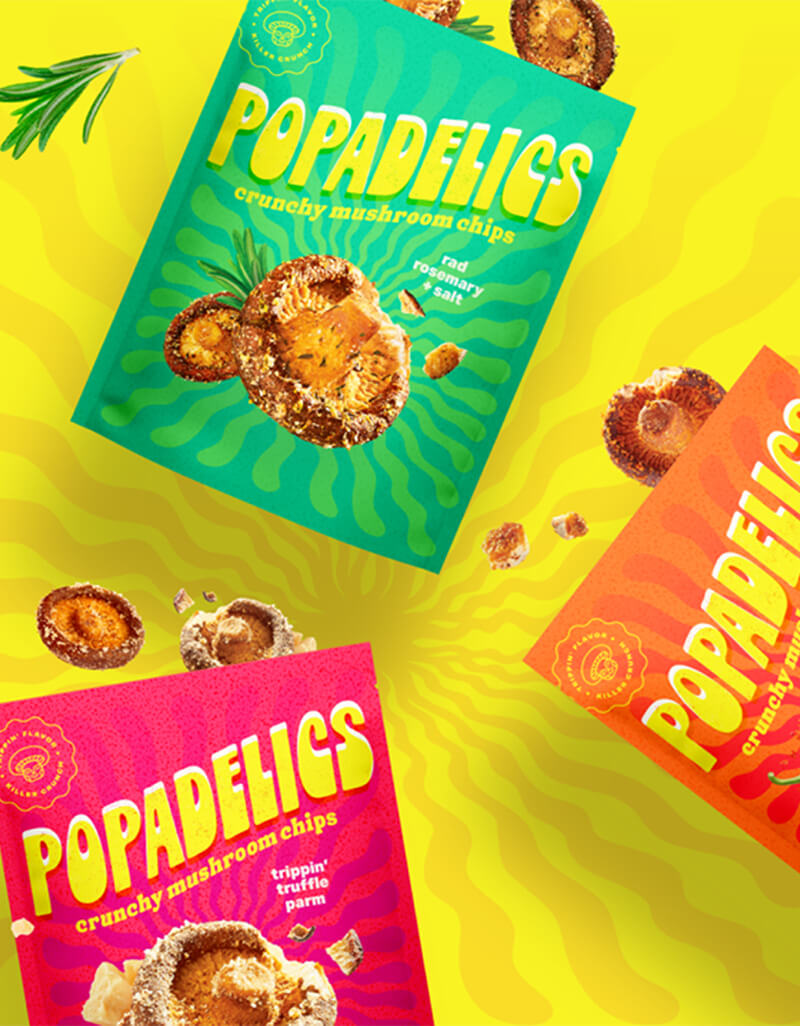 FAQs
No! Although our snacks are highly addictive, they do not contain any psilocybin, THC, CBD, or any other narcotics. However, 
a portion of all purchases supports the 
Fun-Gal Snacks Foundation
, which in turn supports research toward the use of psychedelics to treat mental health, via the Johns Hopkins Institute for Psychedelic and Consciousness Research.
Yes! All of our flavors are vegan, including our (vegan) Trippin' Truffle Parm (with some of the tastiest vegan parm in the game)!
"Popadelic" is actually a
slang word
that means "Having the coolness or style of pop music or pop stars", interestingly enough!
While Popadelics are not yet gluten free certified through any third party agencies and no formal laboratory tests to measure the presence of gluten in our final product have been performed to date, we possess written attestations from all of our ingredient suppliers that each individual ingredient is gluten free. In addition, shiitake mushrooms are our primary ingredient, and they are naturally gluten free.
Yes! Popadelics Crunchy Mushroom Chips and its three flavors (Trippin' Truffle Parm, Twisted Thai Chili, and Rad Rosemary & Salt) are Non-GMO Project certified.
Bags come in two sizes: 1.4 oz or 4 oz; each 1.4 oz bag contains a single serving while each 4.0 oz bag contains 4 individual 1 oz servings (about 9 chips per serving).
Yes! Popadelics Crunchy Mushroom Chips and its three flavors (Trippin' Truffle Parm, Twisted Thai Chili, and Rad Rosemary & Salt) are kosher certified via the Orthodox Union (OU). Please note that the certification became official after some of our packaging was printed, but we can confirm all product has been produced in the same facility and with the same ingredients that have been certified.
Our unique vacuum frying cooking method makes our snack better-for-you than other mainstream snacks while also producing our signature crunch! Vacuum frying uses a combination of pressure and hot oil. Compared to traditional frying, vacuum fried foods cook at much lower temperatures. This can help food absorb less oil and retain more of their color, nutrients, texture, and flavor.
We dare you to try Popadelics - mushroom lovers and doubters alike are raving about our snacks. We promise you haven't had shiitake mushrooms like this before (or this crunchy)!